Abcord Building Services Limited
With a firm commitment to work in partnership on all current and future building developments Abcord have secured a excellent credit facility and premium service level with Energy Performance Certificate EPC .co.uk. Based in Belfast Abcord have been in the Northern Ireland construction industry for three generations, their belief and trust placed in us is a great recommendation.
partners program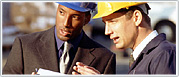 Working smarter not harder
When part of the Partners Program there is a range of benefits. We aim to work like a department within the partners company with the commitment and loyalty that that entails. Pricing and extended credit are not the only benefits, clients receiving a premium service from a local accredited
Energy Performance Certificate
EPC provider.